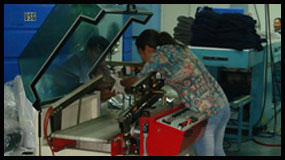 Complete Upholstery Services
Cleaning seat covers is our specialty. Unlike the process of most cleaners, our sophisticated equipment and environmentally friendly solvent eliminate odors and extend the life of covers by decreasing shrinkage and protecting colors. Our dry cleaning program is FAA approved. We can also provide quarterly burn testing to ensure all seat covers are maintained in accordance of F.A.R. 25-853.
Same-Day Laundry and Dry Cleaning Service
For quick turnarounds, we can offer same-day service on seat covers, blankets, curtains and linens.
Upholstery Exchanges
USG employs dedicated personnel to perform seat cover exchanges onboard your aircraft. This reduces your personnel costs and ensures the work is carried out consistently and accurately.